Dominique Mouillot elected president of Women in Nuclear Global (WiN Global)

Dominique Mouillot, vice president of GDES France, has been elected as the incoming president of Women in Nuclear Global (WiN Global), an international organisation that aims to empower women in the nuclear industry. The appointment will take effect at the Virtual General Assembly in early October.
Mouillot, who has been president of WiN France for the past 15 years, will serve as president of WiN Global for the next two years, with an option to extend her presidency for a further two years. The appointment was made at the 2020 Elections held last February to renew WiN Global's Board of Directors.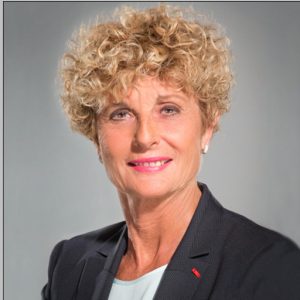 About WiN Global
Women in Nuclear Global (WiN Global) is an international non-profit association of women working professionally in various fields of nuclear energy and radiation applications.
WiN Global currently has around 35,000 members including chapters' members and individuals from 109 countries. Membership includes women working professionally in medicine and health care, in regulatory authorities, in industry and as independent researchers.
WiN Global is a unique association in the world, being the only international women's association in a global industrial sector, such as the nuclear industry.
WiN Global mission is:
To develop a dialogue with the public in order to promote awareness and education of the contribution of nuclear technologies to people and society.
To promote interest in nuclear engineering, science and other nuclear-related professions, especially among women and young generations.
To contribute to knowledge and experience exchange among members and chapters.
In August 2015, WiN Global signed its commitment with the initiative "Nuclear for Climate", proclaiming nuclear energy as a key part of the solution in the fight against climate change.
Dominique Mouillot's contributions to WiN.
Dominique Mouillot has been involved in WiN for over 20 years, through different roles and positions.
She has been President of WiN France for more than 15 years, contributing to the development of the association and significantly increasing the number of members (actually more than 600 hundred). Also, as President of Win France, she has led numerous programmes to promote nuclear technology and gender balance.
In 2008, Dominique co-founded the Fem'Energia Awards with EDF with the objective of promoting the diversity in the nuclear industry by giving more visibility to women in scientific, technical and technological nuclear energy-related occupations, and attracting young women to the nuclear sector. EDF's top management strongly supports this initiative and is involved year on year in these popular awards.
On the international front, Dominique was Vice-President of Win Global from 2014 to 2016 and leaded the foundation of WiN Europe in December 2010, in Budapest, which starts with 8 countries and counts with 14 countries at present. She undertook the Presidency of this association from 2010 to 2015.
She has also supported and participated on the foundation of WIN Poland, WiN Lithuania, WiN UK and WiN Belgium.
With her new role as President of WiN Global, Dominique continues to demonstrate strong commitment, leadership and support for women in the Nuclear Industry across the world, contributing to the growth and success of this association.