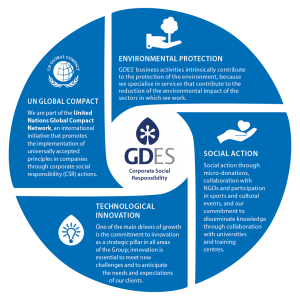 Why work in GD Energy Services?
One of the values of GD Energy Services is its commitment to people.
Our people's commitment is the way we generate trust, convey empathy and show respect, both to the client and our colleagues. For that reason it is looking to take action that will allow the Group to attract, develop and retain outstanding talent.
Thank to the talent and teamwork of all their professionals, GDES continuously strives to be a better company, more sustainable and more efficient, always on the look out for talent to promote its national and international expansion.
GDES is part of the United Nations Global Compact, an international initiative that promotes the implementation of corporate social actions (CSR). Our CSR activities include commitments to the environment and compliance with human rights, strict compliance with employment regulations and the prevention of occupational risks and, of course, the protection of workers' health in all the activities we perform.
We give you 10 reasons
| | |
| --- | --- |
| Experience | GDES is a strong company with more than 85 years of experience in the energy sector. |
| Specialisation | It has a team of more than 1.500 professionals specializing in offering solutions to its clients. |
| Trust | Confidence, credibility and teamwork are values that define them as professionals. |
| Added Value | It provides added value solutions that foresee the needs of its clients. |
| Commitment | Through its work, it contributes to a sustainable world. |
| Development | Development | It is committed to technological development so as to offer optimum solutions to clients and to the environment. |
| Promotion | It promotes talent management among its employees so as to jointly ensure that the growth plans of the Group become a reality. |
| Equality | It believes in an Equality Plan to encourage professional and personal development of both men and women. |
| Safety | It offers high guarantees of safety and health at work. Last year, the fulfillment level of the Prevention Plan and Safety Conditions at work exceeded 90%. |
| Stability | It contributes to society by creating stable jobs in services that the company develops, as is reflected in the 93% permanent contracts enjoyed by its professional team. |