GDES Wind teams up with EnergyLOOP in an innovative circular economy project for the wind industry.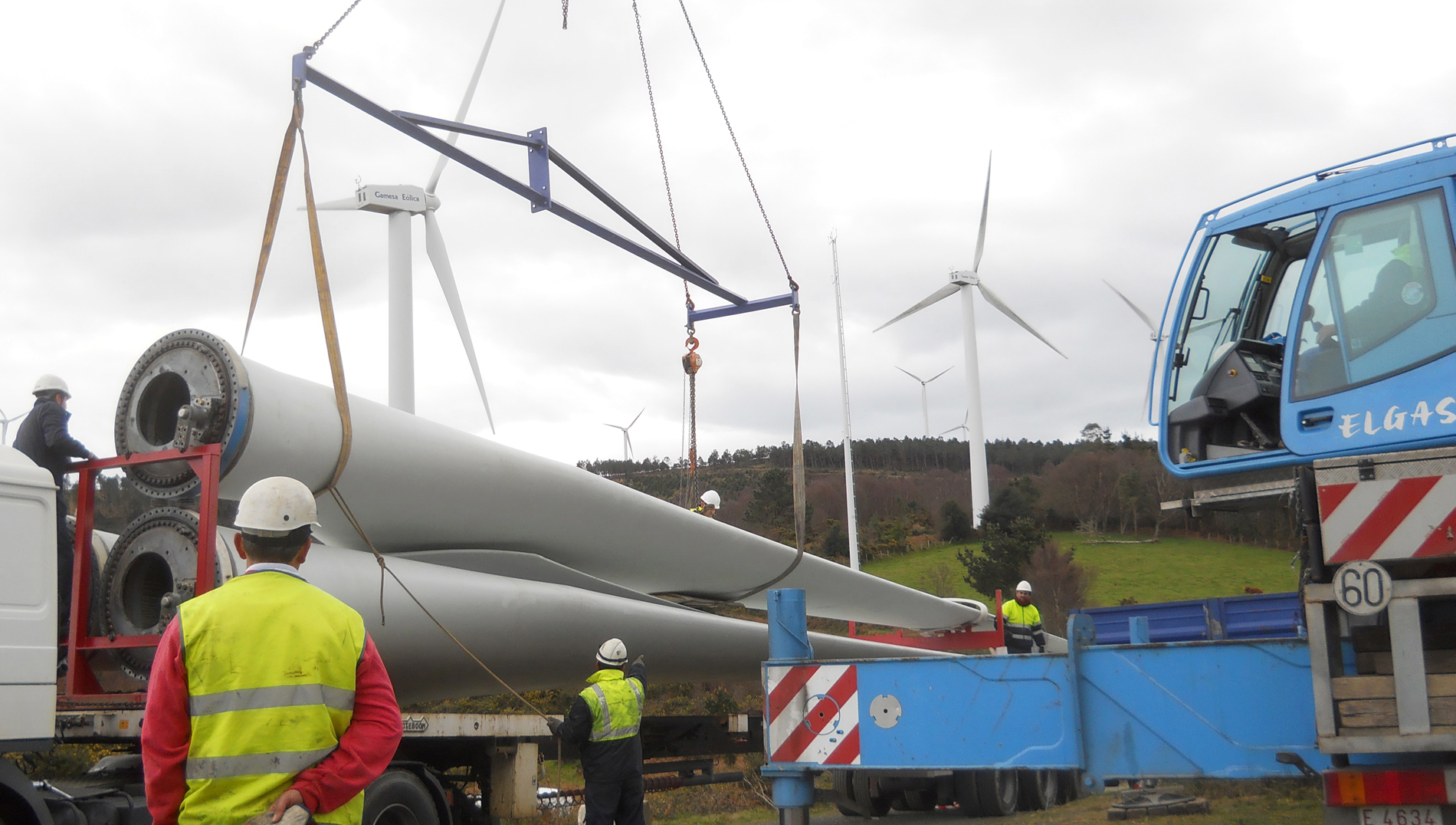 Innovative recycling plant promoted by Iberdrola and FCC, scheduled to come into operation in 2024.

GDES Wind, with extensive experience in maintenance activities in the wind energy sector, will work with EnergyLOOP by providing technical support and expertise on blades and the processes of dismantling, cutting, transport and treatment.
EnergyLOOP will place Spain at the forefront of technology at the service of the circular economy and will contribute to the development of an innovative value chain with an investment of close to 10 million euros and the creation of around 100 jobs. EnergyLOOP, promoted by Iberdrola through its PERSEO programme and by FCC Ámbito, a subsidiary of FCC Servicios Medio Ambiente, will build its innovative wind turbine blade recycling plant in Spain in the municipality of Cortes, Navarra. This initiative aims to contribute to the energy transition in our country and will spearhead the recycling of wind turbine components, one of the biggest medium- and long-term challenges facing the sector.
GDES Wind, drawing on its knowledge of the composition, dimensions, design and handling of wind turbine blades, will provide EnergyLOOP with technical assistance to make the process of dismantling, cutting, transport, treatment and recycling as efficient as possible. It will also assist in supplying material recycled from wind turbine blades dismantled in the facilities where it currently operates and will participate in the selection of the technologies and/or processes for dismantling, treatment or cutting in the field, handling, transport logistics, etc. The aim is to optimise the different stages of the process of finding a second life for the components of dismantled wind turbines, and to recover and use the fibres, once they have been recycled, in new industrial sectors.
This proposal involves technical collaboration with EnergyLOOP in the launch of this innovative wind turbine blade recycling facility as part of the "Circular Repowering" programme within the framework of the PRTR (Spanish Government's Recovery, Transformation and Resilience Plan) and in line with GDES' commitment to Sustainability and the Circular Economy.
The plant will be the first industrial-scale plant in Europe and will place Spain at the technological forefront of this industry. Construction is scheduled to begin in autumn 2023 and the plant is expected to be operational in 2024.
The Spanish wind industry – as a world leader with more than 28 GW of installed capacity – will be faced with the need to recycle or reuse significant numbers of wind turbines before other countries. It is estimated that in Europe in 2030, around 5,700 wind turbines will be dismantled per year, either as a result of the repowering of wind farms or from facilities reaching the end of their service life.
In this context, EnergyLOOP, which is also supported by Siemens Gamesa as a leading wind farm manufacturing and maintenance company, will contribute to the sector's transformation towards a truly circular economy by investing in comprehensive blade recycling solutions. This initiative will also improve competitiveness and sustainability through the research and implementation of new recycling technologies, which will make it possible to deal with increasing amounts of waste and adopt increasingly efficient solutions.
About GDES Wind
GDES Wind (until 2015 Sálvoravento) was founded in 2004 as one of the first independent Spanish companies in the field of wind turbine blades and composite materials, focusing mainly on their maintenance, but also on their design, manufacture, inspection, audits, retrofits and other areas.
In March 2012, Sálvoravento joined GDES, a firmly established Spanish industrial group with extensive experience in maintenance services for the energy industry and with a presence in 9 countries. In April 2015, Sálvoravento changes its name to GDES Wind.
GDES Wind adopted an international approach from the outset and commenced operations in Spain, Portugal and France. It has now developed projects in 36 countries (on every continent) and has the logistical resources to implement projects in any part of the world.
GDES Wind has 3 operational bases in Spain: Culleredo – A Coruña (headquarters), As Pontes – A Coruña (workshop > 3.000 m2), and Albacete. GDES Wind, Inc. (offices in Denver, Colorado) and GDES Wind SAS (offices in Bollène, France) are subsidiary companies of GDES Wind S.L., covering the US and French markets respectively.
More information about GDES Wind at: www.gdeswind.com
More information about EnergyLOOP at: EnergyLOOP Navarra plant – FCC (fccambito.com)