EDF qualifies the excellent results at Flamanville 1 as a "collective victory"
GDES congratulated for inner and outer containment work (project Extrados).
GDES, together with the rest of the companies that have intervened, has been congratulated by Senior Management at EDF Flamanville 1 & 2 power plant for their work on the inner and outer containment structures. During the refuelling outage at Flamanville 1 our client, EDF, carried out ten-year containment resistance and leak-tightness tests under the supervision of the French Nuclear Safety Authority.  The results of these tests will serve as a final validation of the coating system developed by our company (SIKAWRAP 230C SYSTEM).
To provide an alternative solution to existing systems in the market, GDES undertook an innovation project to design a new coating system for the leak-tightness and structural reinforcement of double-walled containment structures. project that is part of the EDF Grand Carénage Program. The project was developed for EDF, following its requirements, and is a solution for the operational continuity of several French nuclear power plants, including Flamanville 1 & 2.
The SIKAWRAP 230C System has been designed to be applied to the external face of the internal containment structure (Extrados),  to improve leak-tightness, resistance to back-pressure and good adhesion to concrete walls.
Once it was optimised, classified and approved, the new SIKAWRAP 230C coating system was applied by GDES (in collaboration with ONET for auxiliary services, such as assembly of scaffolding and ventilation) at the following French nuclear power plants: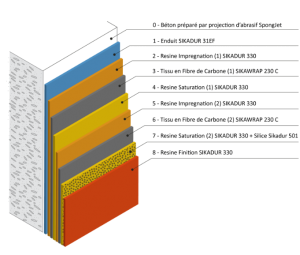 Cattenom 3 (application on approximately 50 m2 in October 2016).
Flamanville 2 (application on approximately 2400 m2 between the months of May and July 2017. The application will continue on the remaining areas between the months of January and April 2019).
Flamanville 1 (application on 4500 m2 between April and July 2018).
The success of the new SIKAWRAP 230C solution has now been confirmed and, for the first time, in a real situation, during the ten-year containment resistance and leak-tightness tests recently carried out at Flamanville 1. The successful results of the pressure tests and the recognition of our client places GDES as a key supplier for EDF. Demonstrates the reliability of an R + D + i project developed by our company and demonstrates the real capacity of our system to solve a new requirement not raised until now, and whose resolution guarantees the operation under the most recent regulations of international nuclear safety.
Congratulations team!