Almaraz NPP acquires RESHAND robotic arm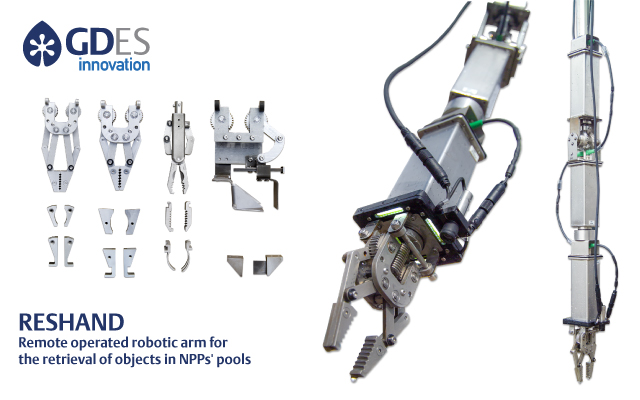 GDES-T4S has developed a new bespoke version of its RESHAND robotic arm for foreign material exclusion both in and outside the pool.
The RESHAND model that GDES-T4S has delivered to the Almaraz Nuclear Power Plant is a new version capable of also operating outside the water, for handling radioactive waste and moving materials in areas of difficult access or with risk of radiation and contamination, such as a solid waste interim storage facility.
The RESHAND robotic arm was initially designed for foreign material exclusion in the containment pools of nuclear power plants. It attaches to any pole model and is controlled by a single operator, through a sensor-equipped Bluetooth-enabled glove.
Equipped with three degrees of freedom, two cameras, a complete set of utensils and batteries for energy autonomy, it is capable of retrieving or repositioning objects precisely, efficiently and safely. Its main advantages include its flexibility of use and a reduced collective dose during operations, owing to the fact that RESHAND is designed to be operated by a single worker.
In October 2017, GDES-T4S supplied the first unit of this technological tool to Cofrentes NPP (Spain).
The new RESHAND model, developed according to the parameters stipulated by Almaraz NPP, has been supplied for use, if necessary, during upcoming activity at its next refuelling outage.
Once again, technology developed by GDES-T4S brings innovation to the operation and maintenance services of the Energy industry, offering clients technological solutions adapted to their needs, with considerable added value.