GDES is increasing its passive protection, thermal insulation and penetration seal services.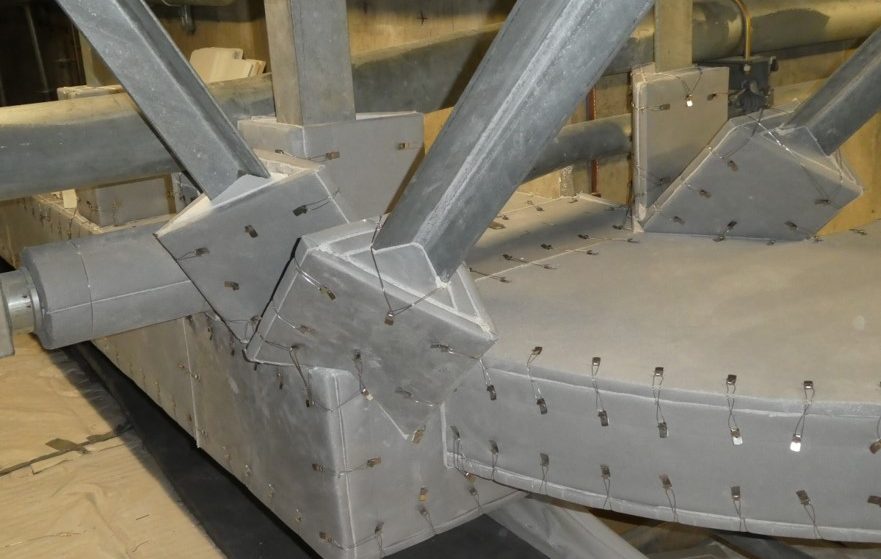 GD Energy Services (GDES) is incorporating new services with a big enough capacity to comply with the needs and expectations of its clients and ensure the technological growth of the company and adaptation to the new needs of the market:
Passive fire protection.
Penetration seals (electrical and mechanical).
Thermal insulation that is both Reflective (with an option for radiation shielding) as well as Conventional.
Signage and identification of systems
Design, calculation and assembly of scaffolding and permanent access ways.
Passive Fire Protection in Cable Trays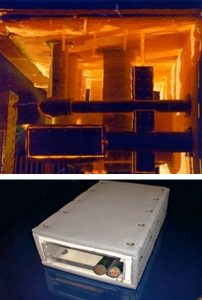 GDES offers the Passive Fire Protection system Darmatt KM1. A system backed by international organisations and tested based on international regulations and codes:
Thanks to the Darmatt KM1 system for endothermic protection in cable trays and electrical panels, GDES offers a unique system on the market. A reusable and detachable system, for maintenance activities, approved by the NRC.
Darmatt KM1 is based on a hydrate that chemically joins water and reduces the speed of heat transfer to the protected cable circuits, using various endothermic reactions. This system keeps the temperature close to 100ºC until the hydrate (from water) turns into steam. This system has an outer protective fabric and J-Hooks without netting. Thanks to the characteristics of its composition, it allows for the integrity of the cables tray to be maintained with a reduced thickness both in 60-minute fires and in 180-minute fires.
Thermal Insulation
In thermal insulation, GDES offers solutions in design, supply and assembly in order to improve the performance of the installations; avoiding heat leaks in the systems and improving environmental conditions in the areas (both for people and equipment).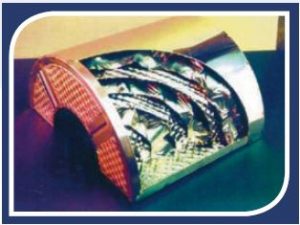 GDES offers solutions for Conventional Thermal Insulation based on mineral wool blankets (meant for non-critical structures) and solutions for Reflective Thermal Insulation (meant for the reactor building in stations). Reflective Thermal Insulation, based on metallic components, allows for a better response in the face of emergencies, avoiding the obstruction of the residual heat extraction pumps in the facilities. Both solutions include design, installation and assembly in permanent accessways.
The Darmet ™ RMI reflective insulation system which GDES offers and of which it is a licensee, offers:
A sheet design which increases the length of the thermal path, reducing the loss of heat by conduction
The polished finish on the sheets reflects radiant heat
It creates blocked air pockets thus preventing the loss of heat by conduction
The cassette is built over a frame base to provide good resistance and stiffness
The Darmet ™ system has a proven history in providing all the products in its Darmet ™ metal reflective insulation (MRI) and other variants in other modular insulation systems in more than 150 nuclear plants around the world.
The Darmet ™ Reflective Isolation system is fully compatible with other systems installed, respecting set-ups, links between both, as well as the established thickness of insulation. Darmet ™ complies with the most demanding regulations in the Nuclear field. The tests carried out on its Reflective Insulation system are assessed and certified by official bodies of well-known prestige.
Penetration Sealing (electrical and mechanical)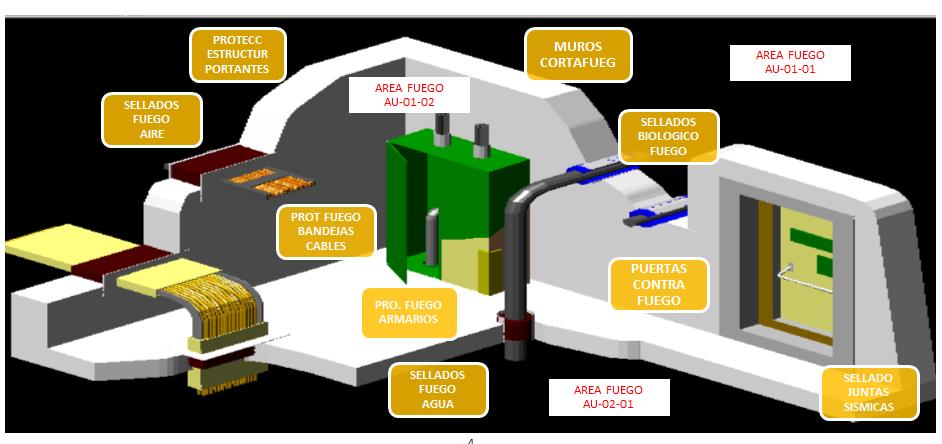 GDES offers different solutions for fire, water and biological penetration sealing.
The GDES systems are set up in different types of sealing depending on:
The barrier needed: fire, water, radiation air and/or pressure
The availability of the seal and/or equipment to protect
The configuration of the materials
The installed thickness
The accrediting trials and tests
Signage and Identification of Systems
Identifying equipment facilitates the operation and maintenance of the plant. Indicating the lines of tubes minimizes risks in maintenance tasks and greatly speeds up identification tasks: isometric no., type of fluid, content, direction of flow or type of risk are immediately identified through simple barcodes and customized signage.
Design, Calculation and Assembly of Scaffolding and Permanent Access Ways.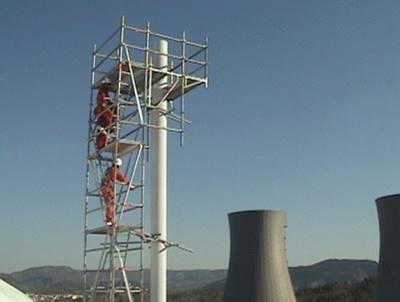 GDES supplies and offers engineering and assembly services for scaffolding and permanent accessways. A service which includes both static and seismic calculations, such as supervision and coordination using qualified technicians.
In this entire new catalogue of services, GDES has trained and qualified ad hoc staff with IT tools approved for the structural calculation of the systems.
All of these services are currently given in CNC, where, for example, Reflective Thermal Isolation and Tube Signage have been designed and installed with Identification Systems among many other services. GDES wishes to put new approved products on the national market, both in Passive Protection and in Thermal Insulation, and has signed agreements with a distributor and manufacturer of Passive Protectors which allows it to offer a comprehensive service to its clients.
GDES puts a lot of effort and resources into research, development and innovation because it believes it to be the future of any company and a guarantee of the quality of the services that they offer. That is why GDES continues to diversify its services and activities, backing themselves with their experience and investing in R&D. The main objective is to ensure optimal efficiency of the facilities of their clients and, to that end, provide unique and comprehensive services which maximize the yield of their investment.