'We add value to provide energy to the world'
---
---
MISSION
We contribute to the efficiency, safety and sustainability of the industry, through Engineering & Services, Innovation, Technology and Diversification as differentiating factors.
GDES is synonymous with commitment.
We provide high value-added solutions with the guarantee of a service company with more than 85 years of history, backed by the trust and loyalty of our clients as their strategic partner.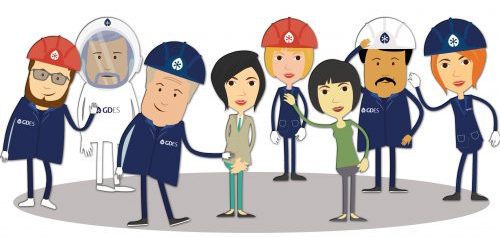 VISION
At GDES, we provide value with the aim of becoming a key partner for our clients, with recognised international prestige in support services for long-term operation and decommissioning in the nuclear and wind power industry. We act at all times in the framework of our values and commitments in order to be energetic, innovative, humane, sustainable and excellent.
VALUES
<![if !IE 8]>

<![endif]> <![if !lte IE 7]>

Energy, which not only speaks about the industry in which we work, but also defines our vital energy: to work with enthusiasm and passion, differentiating our efforts from those of our competitors.
Energy: Passion, Enthusiasm, Effort.


Innovation as one of the most important strategic axes for GDES, is what makes us stand out in the energy sector, allowing us to maintain leadership in the markets in which we work.
Innovation: Creativity, Questioning Attitude, Differentation.

People are everything for the Group and it is everyone's commitment that this will never change. Our People's commitment is the way we generate trust, convey empathy and show respect, both to the client and our colleagues.
People: Trust, Respect, Empathy, Client Orientation.

Excellence we are committed to work with the highest quality standards. Being efficient, flexible and able to work as a team, responding to one unique purpose: to be excellent.
Excellence: Reliability, Efficiency, Flexibility, Teamwork.

And Sustainability . Everything we do, we must do it to keep growing in the long term. All the Group's decisions must be sustainable and forward-looking. GDES is a family business and for that reason we look beyond the years, we think of future generations.
Sustainability: Solidarity, Responsibility, Safety, Ethics.
---
"We add value to provide ENERGY to the world" is the new motto of GD Energy Services. A motto built on the 5 commitments of our company: Energy, People, Innovation, Excellence, Sustainability.